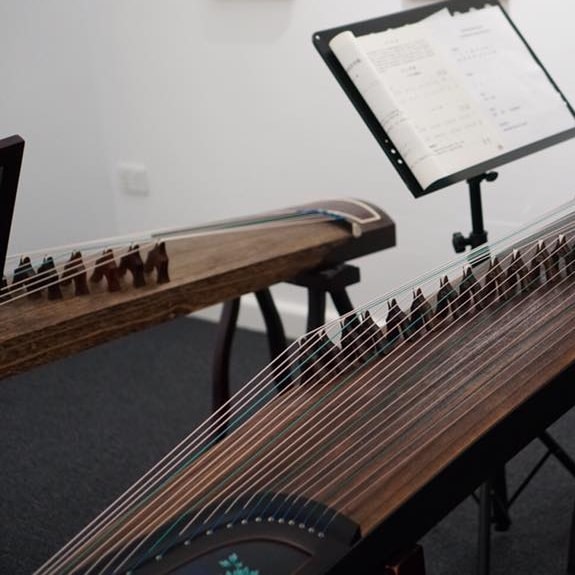 The guzheng is a 'string' instrument of Eastern origins that is also known as the Chinese plucked zither. It has 21 strings of different lengths, each with a bridge that is used to fine-tune the length of the strings and change their pitch accordingly. The guzheng is played by plucking the strings, which then vibrate to produce a sound that is then amplified by the hollow wooden body of the instrument. Different pitches are produced by either plucking a string of a different length (the pitch of which is determined by the placement of the bridge), or by pressing down on the side of the string that is not plucked, using the one hand to artificially shorten the guzheng string.
Learning the guzheng is different from learning traditionally Western instruments due to its cultural background. Its teachings are based on Eastern music theory, which may be different from the Western approach on music. Thus, for students with a background in Western music, it may be difficult to adjust to the different music notations used in these lessons. Learning to play the instrument itself will require finger muscle training. Obtaining the instrument and its related components may be difficult, as its availability in Australia may vary, due to most of the equipment needing to be imported from China.
The guzheng has a nice vibrant tone that
is unique in the Western world. It can play multiple notes at once and while it
is mostly used for traditional styles of music, it can suit a wide variety of
genres. While initially trying to adapt a song to fit the guzheng may be
difficult, the results are often beautiful and astonishing.
We offer a few options for those looking for Guzheng Courses.
With a basic assessment to consider each student's personality characteristics; musical characteristics, physical condition and other personalised factors, the most suitable teacher will be selected to create tailored teaching plans for them.  This includes the style of teaching, progress of teaching, and difficulty of teaching. With individualised teaching processes this ensures that all areas are considered to greatly enhance the learning experience and learning efficiency.
The perfect lesson for those wishing to learn for examination purposes whilst with guzheng friends.
An entry level course for adults eager to learn guzheng. No prior experience necessary. 
Pre-requisite: Entry level course (no prior experience)
Class Structure: Small class of up to 4 people
Lesson Time: Once per week
Teaching Objectives: Learn basic fingering for playing the guzheng. After studying the guzheng introductory course for a semester, students will gain the ability to sight read new music. Experience has shown that in general, student can achieve a professional level of grade 2 at the end of 2 semesters of training.
Early Learning Guzheng Lessons
A lesson specifically designed for children aged 4-5 years old. This is an entry level course for children new to music and the guzheng. 
Pre-requisite: Entry level course (no prior experience)
Class Structure: Small class of up to 4 people
Lesson Time: Once per week
Teaching Objectives: Learn basic fingering for playing the guzheng. Students will be introduced to music notation and taught how to read Chinese music sheets. Progress may differ depending on the individual.  
A great lesson for students with some basic guzheng experience, and can enable them to play a few favorite music pieces or allow them to perform at company gatherings or other events.
Prerequisite: Student must have some basic guzheng experience
Class Structure: One-on-one private or group lessons
Lesson time: Once a week or multiple weekly lessons
Teaching objectives: Complete basic zither playing techniques, learn to skillfully play a few grade 3-5 pieces or piece of choice, and learn how to play stage-worthy performances.
Parent-Child Guzheng Lessons
A course for parents and children who are interested in guzheng, or parents who would like to help their children practice at home. Parent and children lessons create a special environment for parents and children as they become 'classmates and friends', bringing parents and children together as they study and learn whilst enhancing the children's ability and interest to learn.